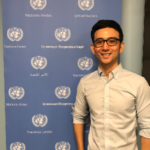 About
Jiawei Li
Country of Origin: China
Organization: United Nations Office for Project Services
Bio: Jiawei Li is fluent in Spanish, Italian, French, Portuguese, German, Chinese, Yiddish and English. During college, he studied Archaeology in Veracruz, Mexico, focusing on Aztec calendar and codex interpretation. Jiawei received his two-year M.A. from Johns Hopkins University SAIS specialized in Emerging Markets and Finance. After spending his first year of the masters program at SAIS Europe in Italy, he served as Summer Analyst at Moody's Investors Service in Mexico City, covering ratings for emerging markets including China, Mexico and Brazil. He also worked as Project Researcher at the Inter-American Development Bank. Jiawei is passionate about development financing and has been working at a venture capital focusing on impact investing. Currently, he works as Project Analyst at the United Nations Office for Project Services. During his spare time, Jiawei enjoys playing water polo, swimming, travelling and dancing salsa. He is also a volunteer at the DC LGBTQ center.
Sorry, no content matched your criteria.